Beauty & Mothers' Day in Armenia, 7 April 2022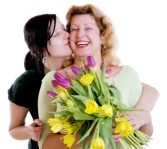 It wouldn't be Mother's Day without Mother's Day flowers. In fact, Mother's Day in Armenia requires only two things: Mother's Day flowers, and endless appreciation for everything mom does.


Wrap mom in an armful of elegance with this hand-selected Mother's Day bouquet of roses, lilies, colorful gerberas, tulips and more other flowers you prefer!

120 cm

60 cm

$ 18

$ 15

You Save: 15.00% (BN-2457)

17 cm

10 cm

$ 21

$ 18

You Save: 12.00% (PR-1578)

50 cm

20 cm

$ 25

$ 23

You Save: 7.00% (PR-1174)

60 cm

100 cm

70 cm

$ 39

$ 35

You Save: 10.00% (BN-6683)

30 cm

40 cm

50 cm

25 cm

$ 43

$ 37

You Save: 12.00% (BJ-1950)

55 cm

35 cm

$ 41

$ 38

You Save: 7.00% (BL-4034)

60 cm

30 cm

$ 42

$ 39

You Save: 7.00% (KR-2477)

60 cm

25 cm

$ 45

$ 43

You Save: 5.00% (KR-3287)

30 cm

25 cm

$ 50

$ 44

You Save: 12.00% (PC-3810)

55 cm

25 cm

$ 49

$ 44

You Save: 10.00% (BJ-1519)

45 cm

30 cm

$ 59

$ 47

You Save: 20.00% (SV-4245)

18 cm

15 cm

60 cm

30 cm

60 cm

25 cm

30 cm

25 cm

$ 51

$ 47

You Save: 7.00% (PRC-5858)

60 cm

30 cm

$ 51

$ 48

You Save: 5.00% (MR-3295)

60 cm

30 cm

$ 54

$ 51

You Save: 5.00% (PR-2000)

35 cm

25 cm

$ 55

$ 52

You Save: 5.00% (ST-1483)

50 cm

40 cm

$ 60

$ 53

You Save: 12.00% (SV-4253)

50 cm

25 cm

$ 64

$ 54

You Save: 15.00% (BE-6417)

60 cm

30 cm

55 cm

35 cm

15 cm

20 cm

40 cm

30 cm

25 cm

25 cm

30 cm

30 cm